Interview with a Bookseller: Conversation with Betsy Burton of The King's English
Victoria Grossack
Betsy Burton is the owner of The King's English, as well as one of the bookstore's co-founders. She is also on the board of Salt Lake City Reads Together, a literacy project designed to build community. In addition, she's active in organizing the Great Salt Lake Book Festival; this year she was a panelist. Also, The King's English supports the University of Utah's Symposium on Science & Literature. The King's English publishes the Inkslinger, a compendium of book reviews, interviews, and other news about books, on a regular basis.
On the business front, Betsy Burton is also a member and the chair of "Buy Local First, Utah" – a state-wide business alliance focused on alliances of local businesses. She was named Bookseller of the Year in 2001 by Mountains and Plains Booksellers Association and Utah Woman Business Owner of the Year by the National Association of Women Business Owners in 2004.
Victoria: Betsy, can you tell me about your store?
Betsy: The King's English is a locally-owned independent book store that has existed on the same site for almost 30 years. A general bookstore, we pride ourselves on our fiction, non-fiction, mysteries, and children's books. On the corner of 15th South and 15th East, we're happy to be part of a thriving neighborhood commercial area. (To visit the store's website, go here: http://kingsenglish.booksense.com/NASApp/store/IndexJsp )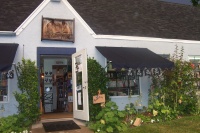 For more about the history of the store – and plenty of information about independent bookselling – you can read my book, The King's English, Adventures of an Independent Bookseller.
Victoria: What are recent trends in the publishing industry?
Betsy: One of the most troubling new trends is that books are being sold in places besides bookstores and on-line sites, such as Starbucks. There are differences in discount schedules, which can hurt the competitiveness of the independents. Also, some publishers are setting up their own Speakers' Bureaus – more competition with the booksellers, who have been the mainstay of organizing events.
On the other hand, there's a new trend in the communities to put more emphasis on buying locally – they're beginning to see that chains are hurting their communities and that big discounts aren't everything.
Victoria: How should an author or an aspiring writer approach a bookseller for either a signing or for advice?
Betsy: It might be politic to get to know your local bookseller. If you're a longtime customer, when you ask for a signing or an event they'll probably bend over backwards for you. You should also do what you can to get to know the publisher rep. Both the booksellers and the reps can make a big difference to your sales. Booksellers sometimes have a surprising amount of influence, and often know editors and publishers.
Also, if you're published and you want to do a signing or some other event, send a copy of the book with complete information. Include your contact information, the names and contact information of local groups that would be interested in your book. In other words, do a little marketing proposal.
Victoria: What's your opinion of POD books and self-publishing?
Betsy: Self-publishing doesn't get you very far. If you look, you realize that these books have made very little inroads into market share.
Victoria: What advice would you give aspiring writers?
Betsy: First, read! Never stop reading. Some writers should ease up on going to writer's workshops – some manuscripts that I've seen are a little too labored. Get to know the people at your local independent bookstore. Also, a job at a local bookstore is a very good idea.
Victoria: Betsy, thanks so much for taking the time to share your wisdom and experience! Also, if you want to learn more about what matters to independent booksellers – a really good idea for anyone with a reason to care about this industry – I heartily recommend Burton's book, The King's English.
****
This article is the sole property of the author. It is produced here with the author's permission. The unauthorized use or reprinting of an article is illegal, and will be prosecuted at the discretion of the author.