Testimonials
"I'm having a blast--I've learned so much thus far! I was telling a friend of mine about the bonding aspect of this group, and she asked me how I could tell that was happening. When I explained about the enthusiasm, the encouragement, the respectful tone of the critiques...the reaching out to one another, she was amazed. I'm a believer now and plan on additional classes after this one."
-- Pam S., student in Karen's Fiction 101 workshop

More Information
Frequently Asked Questions

Workshop Terms of Service
Fiction Manuscript Workshop:
The Short Story

Facilitator: Karen Hertzberg

Workshop Syllabus

You've completed a short story, but you're baffled about the steps you should take to revise, edit and market your writing. What comes next?

This workshop focuses on taking a completed manuscript and turning it into a marketable work of fiction, with an emphasis on peer critique and revision techniques. Students will receive a thorough, professional critique from their instructor in the opening week of the workshop, and will spend time revising and polishing their work. In the final week of the course, students will submit their manuscripts to markets they have researched and chosen.

Note: A completed manuscript must be submitted no less than 2 weeks prior to the start of this workshop. Due to the intensive nature of this course, registration is limited to 5 students.

Week 1: Instructor Critiques/How to Critique

During our opening week, each student will receive an instructor critique of his or her manuscript, which will be shared with the class. Critique methods will be discussed, and students will learn to offer their own critiques.

Week 2: Revisions - Part 1

We will discover methods for revising fiction that go beyond simple editing. Topics covered will include: How to show, not tell; writing with power; dialog mechanics; and point of view. Students will work on revising their manuscripts and submitting samples of revised material.

Week 3: Revisions - Part 2

This week will focus on free-form discussions of topics which have arisen during our revision stage. We'll cover areas of particular interest to students such as finding meaning and direction in a story, character development, creating conflict and sustaining tension. Students will submit their final, revised manuscript for peer review.

Week 4: Marketing Your Writing

Do you market your writing? It's what separates the hobby writers from the serious writers who have a desire to be published. We'll learn how to find markets, and how to format and submit a manuscript. By the end of this week, students will choose a market and submit their stories.

Objective:
This course was designed to help students revise their manuscripts based on the individual needs of each student, instead of a structured lesson/assignment format. Students will discover the art of revision, and will come away from the workshop with a new understanding of what to look for in their fiction, and how to learn through giving critiques to other writers, as well as receiving critiques of their own writing

Prerequisite: Firm understanding of sentence structure and grammar. Successful completion of high school English courses. This course does not deal with the mechanics of the English language, but with the structure and mechanics of writing a marketable short story.

Required Materials: A completed fictional story of less than 4000 words. (Please, no novel chapters.) Your story should be edited and revised to the best of your ability before submission to the workshop. Please submit your best work. Submission instructions will be provided upon paid registration.

Required Text:
Self-Editing for Fiction Writers, by Renni Brown and Dave King.

About the Facilitator: Karen Hertzberg is the creator of the award-winning Coffeehouse for Writers web community, and managing editor for Fiction Fix Newsletter, in which she publishes a popular column, "The Fiction Writer's Toolbox." Karen's fiction has appeared in literary journals, including Mindprints, Conversely (April, 2001), and Blue Moon Review. Her articles on the craft of writing have also appeared in Inscriptions Magazine, Beginnings, Word Weave and several other publications.

---
Workshop Begins: August 12, 2002
Registration Deadline: July 22
Duration: 4 weeks
Tuition: $125
To pay by check or money order CLICK HERE
Return to Workshop Catalog
Required Text
The following book is required for participation in the course. Please purchase the book from Amazon.com or your local bookseller prior to the start of class.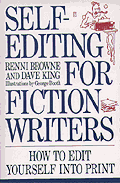 Self-Editing for Fiction Writers
There's not much of the old-style editing going on at publishing houses today. Renni Browne, veteran of William Morrow and other publishers, founded the Editorial Department in 1980 to teach fiction writers the techniques professional editors (many of whom have gone independent) use to prepare a manuscript for publication. In this book, she and senior editor Dave King share their accumulated expertise in a series of brilliantly compact lessons.
- Amazon.com reviews
Recommended
Books recommended on this page are not required reading for participation in the course. Required materials, if any, are listed in the course syllabus.
This excellent book will guide you through the process of re-visioning and reworking your fiction. Far from a dry reference book, this is an essential guide for anyone serious about crafting better fiction.